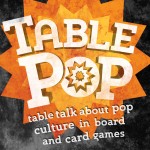 This Tablepop episode is a big hot mess of Alienses goodness. We start with the films and move onto Alien: Legendary Encounter, followed by Space Hulk, and finish up discussing our concerns about the future of the franchise! Game begin, man, game begin.
Also, there's a freely available abandonware Aliens game that you can print out and play from Boardgamegeek.
Subscribe on Sticher, iTunes or the old school magic of RSS feeds.